Who should take this course?
---
If you remediate mold, you should demonstrate your knowledge and experience by getting an accredited certification such as the CMR or CMRS, which require field experience. Our Microbial Remediator Course will also prepare you for the CRMR, which does not have any experience requirements. Not only does our class prepare you for these important certifications, but it also teaches you how to perform mold remediation in a manner consistent with all industry guidance documents.  The course will help you navigate complex topics such as antimicrobial use, HVAC remediation, and clearance testing. This class, which is often referred to as the "CMR Course", will help you be a better remediator and get you ready for the certification exams.
Is this an online course or an on-site course?
---
We teach the Microbial Remediator Course as an online program. However, if you have a private group needing training, we can provide you with a quote to teach the class at your facility. Just contact us for information about private, on-site courses.
The online course entails watching presentations with audio.  The online course is self-paced, meaning you can watch the presentations at any time of the day or night. You have 90 days to complete the course, which includes 16 hours of instruction.
What does it cost and how do I register?
---
The online Microbial Remediator Course costs $795. Indoor Air Quality Association (IAQA) members receive a $100 discount.
To register, click Online Registration, or give us a call at (312)920-9393.
After registering, online students will receive login credentials. View our cancellation and refund policy.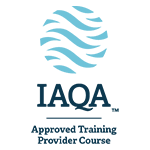 What topics does the Microbial Remediator Course cover?
---
The Microbial Remediator course covers both the theory and the practice of mold remediation. You'll learn about engineering controls, PPE, contaminant removal, HEPA vacuuming, and air scrubbing.  To view a comprehensive list of topics covered, see below:
Module 1. Principles of Remediation
Mold- What is it?
Growth Requirements
Mold Spores
Growth Cycle
Common Mold Types
Health Effects of Mold
Dampness and Health
Bacteria
Purpose of Remediation
Antimicrobials
Antimicrobial Regulations
Antimicrobial Terminology
Parties Involved In Remediation
Module 2. Guidelines, Standards, and Regulations
The Difference Between Guidance Documents
Mold Regulations
Mold Remediation Standards
Mold Remediation Guidelines- New York City
Mold Remediation Guidelines- EPA
Other Remediation Guidelines
Asbestos Regulations
Lead Regulations
MSDSs
ACAC Code of Conduct
Module 3. Water Damage
Sources of Water Damage
Industry Standards
IICRC S500 Background
S500 Overview
Categories and Classes of Water
Categories 1 Water
Category 2 Water
Category 3 Water
Classes of Water Loss
Structural Restoration
Understanding Moisture & Thermodynamics
Module 4. Personal Protection
Introduction to Personal Protective Equipment
Respirators
Filtering Elements
Air Purifying Respirators
Powered Air Purifying Respirators (PAPR) and Others
Assigned Protection
Medical Evaluation
Fit Testing
Respiratory Protection Plans
Eye Protection
Coveralls
Other Protection (Hands, knees, steal toe, hardhat)
Safe Work Practices
Module 5. Structural and Contents Remediation
Preliminary Determination
Introduction to Engineering Controls
Containment
Pressure Differential
Air Changes
More on Air Filtration Devices (AFDs)
Cleaning vs. Removal
Non-porous Surfaces
HEPA Sandwich
Semi-porous surfaces
Porous Surfaces
Egress
Contents
Disposal
Module 6. HVAC Remediation
HVAC Systems and Equipment
Residential HVAC Systems
Commercial HVAC Systems
Ductwork
Porous and non-porous materials in HVAC Systems
Duct Cleaning Overview
ACR- The NADCA Standard
Duct Cleaning Methods
Mold in Ductwork
Chemicals in Ductwork
Duct Cleaning Verification
System Cleaning vs. Duct Cleaning
HVAC System During Mold Remediation
Module 7. Project Documentation
Documentation
Remediation Plan
Conflicts of Interest
Mold Inspections and Remediation Plans
Items to Include in Remediation Plans
Prescriptive vs. Performance
Solving the Moisture Problem
Contracts
Recordkeeping
Communication
Signage
Reporting
Verification
PRV Procedures
PRV Sampling
State of Texas PRV Rules
After the Verification