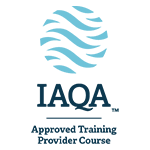 IAQA University Classes
---
Indoor Sciences has developed short, 1-hour classes to help you further your education. Maybe you only need a few hours to meet recertification requirements, or perhaps you are interested in learning about a very specific topic. Either way, our classes would be a great fit for you.
Indoor Sciences' continuing education classes are offered through the Indoor Air Quality Association (IAQA), as part of their IAQA University. We have developed over 50 different continuing education classes (see below) covering a wide range of topics including building science, HVAC, IAQ assessments, sampling, and remediation. To learn more about these classes, click the more information button below.
50 Available IAQA University Classes
---
The classes below were developed by Indoor Sciences and are currently available in the IAQA University.
IAQ Overview
Introduction to IAQ (IAQU 101)
IAQ and Health (IAQU 102)
Building Related Illness (IAQU 103)
Preventing IAQ Problems I (IAQU 104)
Preventing IAQ Problems II (IAQU 105)
IAQ Management (IAQU 106)
Handling IAQ Complaints (IAQU 107)
Regulations, Standards and Guidelines (IAQU 108)
Exposure Guidelines (IAQU 109)
The Fundamentals of IAQ Contaminants
Mold (CONT 101)
Bacteria (CONT 102)
Viruses (CONT 103)
Allergens (CONT 104)
VOCs (CONT 105)
Radon (CONT 106)
Carbon Monoxide (CONT 107)
Other IAQ Contaminants (CONT 108)
HVAC
Residential HVAC Systems (HVAC 101)
Commercial HVAC Systems (HVAC 102)
Media Filtration (HVAC 103)
Air Cleaning (HVAC 104)
Ventilation (HVAC 105)
Ventilation Standards (HVAC 106)
HVAC and Humidity (HVAC 107)
HVAC Maintenance and Hygiene (HVAC 108)
Building Science
Introduction to Psychrometrics (BSCI 101)
Using the Psychrometric Chart (BSCI 102)
Managing Moisture I (BSCI 103)
Managing Moisture II (BSCI 104)
Assessments
Gathering Information (ASMT 101)
Walk Through Inspections (ASMT 102)
Assessing Temperature and RH (ASMT 103)
Assessing Ventilation and Pressurization (ASMT 104)
Assessing Moisture (ASMT 105)
Introduction to Sampling and Report Writing (ASMT 106)
 Sampling IAQ Contaminants
Air Sampling for Mold I (SAMP 101)
Air Sampling for Mold II (SAMP 102)
Surface Sampling for Mold (SAMP 103)
Other Sampling for Mold (SAMP 104)
Sampling for Bacteria (SAMP 105)
Sampling for Allergens (SAMP 106)
Measuring Particulate Matter (SAMP 107)
Measuring VOCs (SAMP 108)
Measuring Carbon Monoxide (SAMP 109)
Mold Remediation
Introduction to Mold Remediation (REME 101)
Personal Protective Equipment (REME 102)
Engineering Controls (REME 103)
Contaminant Removal (REME 104)
Antimicrobial Use (REME 105)
Remediation Plans and Verification (REME 106)