Who should take this course?
---
If you are a facility manager, health & safety officer, building engineer, or property manager with an interest in air quality, the IAQ Manager Course is for you.  Not only does our course teach you about operating and maintaining your building to improve the indoor air quality, but it also prepares you for the CIAQM certification.  This class is designed for individuals that work in a specific building or a campus.  If you are a consultant that evaluates indoor air quality in different buildings each day, the Indoor Environmentalist Course would be more appropriate for you.
Is this an online course or an on-site course?
---
We teach the IAQ Manager Course as an online program. However, if you have a private group needing training, we can provide you with a quote to teach the class at your facility. Just contact us for information about private, on-site courses.
The online course entails watching presentations with audio.  The online course is self-paced, meaning you can watch the presentations at any time of the day or night. You have 90 days to complete the course, which includes 16 hours of instruction.
What does it cost and how do I register?
---
 The IAQ Manager Course costs $795. Indoor Air Quality Association (IAQA) members receive a $100 discount.
To register, follow this link: IAQ Manager Course or call us at (312)920-9393.
After registering, online students will receive login credentials. View our cancellation and refund policy.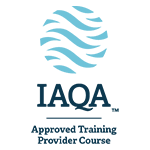 What topics does this course cover?
---
The IAQ Manager course covers a wide range of topics related to diagnosing, solving and preventing IAQ contaminants. To view a comprehensive list of topics covered, see below:
IAQ Contaminants and Health Effects
IEQ
Sick Building Syndrome
Building Related Illness
Dose Response
Microns
Taxonomy
Ecology
Mold
Mold Spores
Common Mold Types
Health Effects of Mold
Dampness and Health
Bacteria
Legionella
Tuberculosis
Viruses
Allergens
VOCs
VOC Sources
Common VOCs
Reducing VOCs
Multiple Chemical Sensitivity
Radon
Particulate
Carbon Monoxide
HVAC and IAQ
HVAC Impact on IAQ
Commercial HVAC
System Types
Constant Volume Systems
Variable Air Volume
All Water Systems
Packaged Units
Residential-type Systems
Temperature and RH
Filtration
Efficiency Scales
Electrostatic Precipitators
Gas Phase Air Cleaners
Cooling Coils
UV Lights
Condensate Drain Pans
Duct work
Cooling Tower
Outdoor Air Ventilation
Space Pressurization
Mechanical Room Cleanliness
IAQ and Energy
Energy Recovery Ventilation
Demand Controlled Ventilation
Ventilation Effectiveness
IAQ Management
Outline
Policy Statement
IAQ Management Plan
IAQ Notebook
Assignments and Training
IAQ Manager Responsibilities
Protocols
Complaint Response System
Collecting Complaints
Logging Complaints
Responding to Complaints
Case Study
Outside Consultants
Marketing
Budgeting
 Assessing IAQ
IAQ Profile
Diagnosing IAQ Problems
IAQ Assessment Plan
Step 1: Gather Information
Document Review
Occupant Interviews
Formal Questionnaires
Step 2: Walk Through Inspection
Outside the Building
In the Occupied Space
HVAC System
Step 3: Indicator Measurements
Temperature and RH
Outdoor Air Ventilation
Moisture Measurements
Pressurization
Step 4: Diagnostic Measurements
Formulate Hypothesis
Test Hypothesis
Test Results
Hiring Outside Consultants
Resolving IAQ Problems
Controlling and IAQ Problem
Source Control
Ventilation
Filtration
Reducing VOCs
Reducing Radon
Controlling ETS
Mold Remediation
Standards and Guidelines
IICRC S520
NYC Department of Health
EPA
Safety and Health
Fixing the Moisture Problem
Contaminant Control
Contaminant Removal
Chemical Usage
Choosing a Contractor
Duct Cleaning
Preventing IAQ Problems
Outline
Preventative Maintenance
Healthy Alternatives
Healthier Cleaners
Healthier Vacuums
Healthier Pest Management
Healthier Paint
Managing On-site Chemicals
Chemical Inventory
Material Safety Data Sheets (MSDS)
Stopping Contaminants at the Door
Guidelines for Remodeling
CIAQM Practice Examination