Who should take this course?
---
If you are looking to obtain a prestigious indoor air quality certification such as the CIE or CIEC, you don't want to miss this course, often referred to as the "CIE Course".  Or maybe you are most interested in learning how to thoroughly evaluate the indoor air quality of residential, commercial, and institutional buildings.  Whether your interest is certification prep or learning how to perform exceptional fieldwork, our Indoor Environmentalist Course is the right class for you.
While preparing for the CIE, CIEC, and CRIE certifications, you will learn how to ask the right questions, inspect important areas, and measure meaningful contaminants.
Is this an online course or an on-site course?
---
Both! You can start the online class today or check our course schedule below for upcoming dates. 
Online
The online class consists of videos that you watch at your own pace, any time of day or night. It takes about 32 hours to complete the online course. Online students get access to the videos for 90 days and indefinitely keep the course manual for future reference. 
On-Site
Our face-to-face, on-site courses are condensed down into two 8-hour days for a fast-paced format. The on-site class gives students the opportunity to use IAQ instruments hands-on. The class is typically taught quarterly in cities throughout the US. See below for upcoming class dates.
March 18-19, 2020 Rosen Plaza Hotel, 9700 International Drive, Orlando, Florida 32819
May 13-14, Cancelled due to COVID-19
September 16-17, Cancelled due to COVID-19
November 11-12 6000 Shoreline Ct #205, South San Francisco, CA 94080 Cancelled due to COVID-19
What does it cost and how do I register?
---
Both the online and on-site courses cost $795. Indoor Air Quality Association (IAQA) members receive a $100 discount.
To register, click one of the following links:
ONLINE Indoor Environmentalist Course Registration
ON-SITE Indoor Environmentalist Course Registration
or give us a call at (312)920-9393.
After registering, online students will receive login credentials. View our cancellation and refund policy.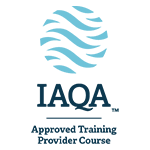 What topics does the Indoor Environmentalist Course cover? 
---
The Indoor Environmentalist Course covers a wide range of topics related to IAQ contaminants, health effects, building science, HVAC, equipment, assessments, standards, and remediation.  Below is a comprehensive list of topics covered:
IAQ Contaminants and Health Effects
IEQ
Sick Building Syndrome
Building Related Illness
Dose Response
Microns
Taxonomy
Ecology
Mold
Mold Spores
Common Mold Types
Health Effects of Mold
Dampness and Health
Bacteria
Legionella
Tuberculosis
Viruses
Allergens
VOCs
VOC Sources
Common VOCs
Reducing VOCs
Multiple Chemical Sensitivity
Radon
Particulate
Carbon Monoxide
The Built Environment
IAQ Problems
Controlling IAQ Problems
Air Pressure
Pressurization
Causes of Pressurization
Stack Effect
Psychrometrics
Air Infiltration
Vapor Diffusion
Condensation
Building Security
HVAC
Intro to HVAC
Control of Contaminants
Problem Areas
Air Distribution Systems
VAV Problems
Ductwork
Humidity Control
Ventilation
Outdoor Air Intakes
Ventilation Effectiveness
Filtration
Filter Efficiencies
Filter Replacement
Electronic Air Cleaners
Gas Phase Filtration
HVAC Maintenance
HVAC Inspections
Equipment and Assessments
Assessments
Gathering Information
Walk Through Inspections
Instrumentation
Indicator Measurements
Assessing Ventilation
CO2 and Ventilation
Assessing Pressurization
Assessing Surface Moisture
Infrared Thermography
Mold Sampling
Air Sampling
Viable Air Sampling
Spore Trap Sampling
Interpreting Air Samples
Pump Calibration
Surface Sampling
Dust Sampling
Other Mold Sampling
Conditions During Sampling
Assessing Particulate Matter
Assessing VOCs
Guidelines, Regulations, and Standards
ASHRAE 62.1 Scope
Definitions
Acceptable IAQ
Ventilation Rates
IAQ Procedure
Outdoor Air Quality
Equipment Requirements
O&M
ASHRAE 55
Exposure Guidelines
MSDSs
ACAC Code of Conduct
Remediation
Purpose of Remediation
Communication
Water Damage
Structural Drying
Engineering Controls
Isolation
Pressure Differential
PPE
Respirators
Cleaning vs. Removal
Hard Surfaces
Porous Surfaces
Disposal
Antimicrobials
Writing Remediation Plans
Remediation Verification